SAME DAY INSPECTIONS AVAILABLE
Living in the Midwest homeowners know they need to choose a roof that is durable and built for the local climate.
A cedar shake roof not only gives you the durability you need, but a truly beautiful and stylish roof.  Unlike asphalt shingles installation, cedar shake installation doesn't require heat for a seal to adhere. Cedar is the most energy-efficient roofing offering excellent strong weather resistance.
With Midwest temperatures and weather conditions you want a roofing contractor that is an expert with cedar shake installation, so your new roof will beautifully last for years to come.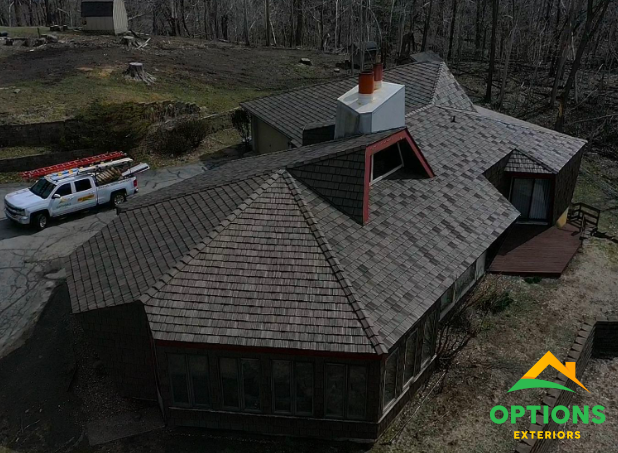 Benefits of Cedar Shake Roofing:
While asphalt shingles might be the more common choice for roofing in the Midwest, cedar shakes are a traditional and environmentally friendly option that gives your home a unique look. Cedar shake roofing comes with many benefits that make it a superior choice for a new home roof:
As the only roofing material that can be maintained to prolong its service life, cedar shake roofing lasts for decades longer than some other roofing materials.

You'll get the highest R-value with cedar shakes, giving your home superior efficiency that is more than 4x the efficiency of typical shingles.

Compared to other natural roofing materials, cedar shake roofing is remarkably affordable and offers timeless beauty and curb appeal.

The weather in the Midwest can be extreme, but cedar shake roofs are designed to deliver impressive wind and

hail

resistance—protecting your local home from the elements.

The sweet aroma of cedar lingering for weeks after the install is delightful.
Why Options for Cedar Shake Roofing?
Not all roofing companies are the same. Most do not have the experience or skill needed to handle the installation of a cedar shake roof. Trust Options Exteriors with your cedar roof installation. We not only have decades of experience installing cedar roofs in Midwest weather conditions, we also have certifications that prove our capabilities for completing the work to high standards of quality.
From your inspection, through to the complete installation we will provide superior service, personalized care, and attention to detail that guarantees that your cedar shake roof will hold up to years of wear and tear.  If you are considering a cedar shake roof contact Options Exteriors today or fill out our online form now to schedule a free inspection.